In celebration of Baby Girl's birthday, I made these scrumptious cupcakes upon Babe's request. They are a favorite of his and so ridiulously good. These yummy treats go against my "healthy" conscience, but life is too short not to enjoy special treats now and then, right? Baby Girl hasn't had something this sweet in her entire short life, but we let her have a few bites. It was her birthday, after all! To make the cupcakes even more sinful, I made a butter cream icing to top them off!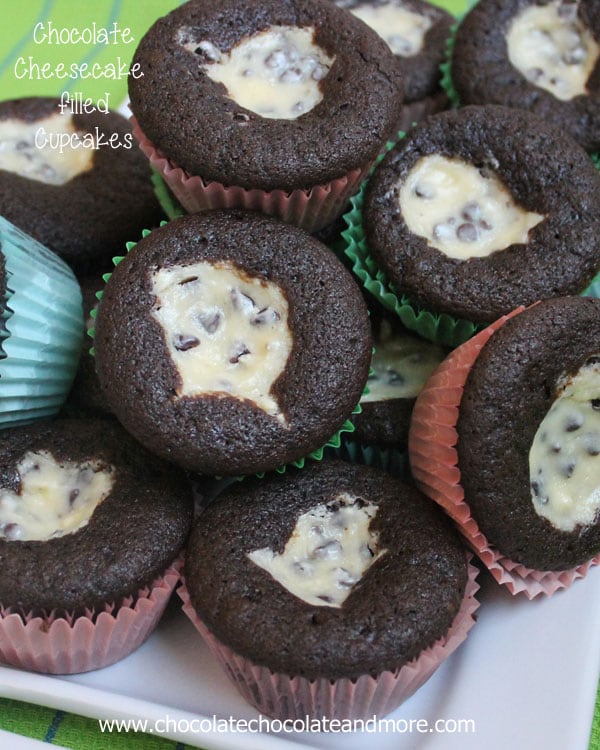 Chocolate Cheesecake Filled Cupcakes

Ingredients
1 1/2 cup all purpose flour
1 cup sugar
1/2 teaspoon salt
1 teaspoon baking soda
1/4 cup cocoa
1 cup water
1/2 cup oil
1 tablespoon white vinegar
1 teaspoon vanilla extract

for the Filling:

1 (8 ounce) package cream cheese, softened
1 egg
1/2 teaspoon salt
1/3 cup sugar
1 cup mini chocolate chips
Instructions
Make your filling first. In a medium bowl, Beat cream cheese, egg, sugar and salt until smooth. Stir in chocolate chips. Set aside.
Combine flour, sugar, salt, baking soda and cocoa in a large mixing bowl. Add in remaining ingredients and mix until smooth. Line a cupcake/muffin tin with liners and fill cups 1/2 full. Add one heaping tablespoon of filling into center of each cupcake.
This is a sticky batter so I lightly greased the top of my pans, just in case, it works great for any cupcake or muffin recipe.

Bake in preheated 350 degree oven 25-30 minutes or for mini cupcakes about 18-20 minutes. Let cool in pan for 20 minutes before removing to wire racks to cool completely



Yield:

18-20 cupcakes
Notes
The recipe I normally use is from a mennonite cookbook that is currently in storage. I found this recipe on pinterest and thought it sounded fairly similar. They tasted just as great!!! Source and pictures
ChocolateChocolateandmore.com
http://savorysweetlife.com/2010/03/buttercream-frosting/
Ingredients
1 cup unsalted butter (2 sticks or ½ pound), softened (but not melted!) Ideal texture should be like ice cream.
3-4 cups confectioners (powdered) sugar, SIFTED
¼ teaspoon table salt
1 tablespoon vanilla extract
up to 4 tablespoons milk or heavy cream
Instructions
Beat butter for a few minutes with a mixer with the paddle attachment on medium speed. Add 3 cups of powdered sugar and turn your mixer on the lowest speed (so the sugar doesn't blow everywhere) until the sugar has been incorporated with the butter. Increase mixer speed to medium and add vanilla extract, salt, and 2 tablespoons of milk/cream and beat for 3 minutes. If your frosting needs a more stiff consistency, add remaining sugar. If your frosting needs to be thinned out, add remaining milk 1 tablespoons at a time.
Birthdays are made to celebrate!
Enjoy!